Review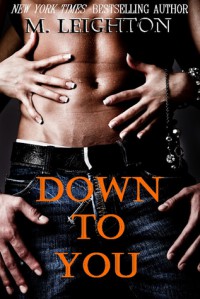 Down To You was just... wow. Hot. Awesome. Sexy. Romantic. It was a whole lot of things and I am so sorry I waited to read it. I should have droped everything to read it. I have read a few, not all, but a few of M. Leighton's books and each one I've read I've loved. She never disappoints... YA or Adult, Contemporary or Paranormal... she never disappoints.
First of all, the story. Rocked. I loved the plot and storyline. The Bad Boy vs. The Good Guy. The great girl torn between the two. Then the twist... did NOT see it coming. At. All. Olivia always falls for the bad boy and alays gets hurt. She was still trying to recover from the last one. She decided to stay as far away as possible from the bad boys. But then she meets Cash at her friends bachelorette party at his club. And it is one hell of an introduction! The next morning we get a hilarious introduction to Nash, Cash's twin brother. They are completely opposite and both are ungawdly hot. Plus both want Olivia... not without their issues. Nash is with Olivia's mean girl cousin Marissa and Cash is the bad boy Olivia swore she'd stay away from. Until Cash makes Olivia an offer she can't refuse... sex without the ties. Cash and Olivia are explosive and hot together and just... wow. We watch Cash, Olivia and Nash, but we see a lot from Cash and Olivia... then a massive curve ball you never see coming.
Olivia is a great character. She has her insecurities about herself, but its not so much so that they make her. Her character had a lot of depth and I enjoyed reading her POV. I also liked watching her deal with her insecurities, she was a strong women and very caring and passionate as well. Cash and Nash were also multidimensional. They were also both extremely hot. Cash was the definite bad boy, but he also had a sweet side and a romantic side. He also had a protective streak. He was brash and bold. And the scenes with him and Olivia... *fans self* were absolutely hot. M. Leighton can write a heck of a sex scene or makeout scene. Nash was just as great. He was polite, intelligent, and sweet. Nash was also hot. He was also very driven and I admired that.
There were a couple other characters I liked. First, there's Ginger. I love her! She is wild, outgoing and just fun to read. I'd love to see her get a book. Olivia's dad was a great man. He was hardworking and really cared for Olivia. He was a great parent to her and I loved the scene betwen he and Cash. Then there's Marco. He was flirty and fun, even though we didn't see him much I liked him. Marissa... is a spoiled brat whom needs to be brought back to earth, otherwise I might like her. I am curious to read her book though.
I have to say I will be picking up the next book Up To Me very soon. I bought both books as soon as they released and will do the same with book three. I also have to say I love the new covers too! Once again M. Leighton delivered a great read and a steamy read. I loved it and cannot wait for the next.