Review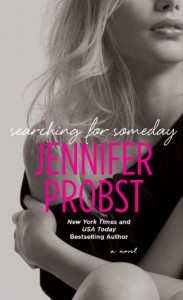 ***ARC Provided by Publisher in exchange for honest review***
Kate and her friends have opened a match making company called connections together. They are using the science of relationships and psychology, but also a little extra help from a gift of Kate's. She can sense when a couple has a true connection.After taking on a client, they end up with a stipulation they don't expect... the clients divorce attorney older brother Slade. Slade's hot and a major pain in the butt. He challenges Kate and she becomes determined to prove him wrong while continuously reminding herself that he's all wrong for her. But is he really?
I wanted to love this book, I liked it, but didn't love it. I really liked the story line. I thought it was cute and how it was written was great. Probst always has great flow and humor in the books of hers I have read.She also creates great characters. I loved Gen, Kennedy and Arilyn. They were awesome characters and I'm really interested in reading their stories.
Kate was an okay character. She honestly got really annoying at times and just all around ticked me off. She was way to back and forth about things, more so than Slade even, and at times I really felt bad for Slade rather than her. I mean Slade had his fair share of back and forth, but Kate really took the cake. I did love her big heart and her overall view on love. I loved Robert. All I'm saying on that. But Kate was knowledgeable about what she did, as were all the girls, and was so sweet to her clients. I did like that aspect of her. I just didn't like how she tended to treat Slade at times. I also didn't like the whole "first-time" scenario. I didn't like how she played that off at all. Slade was awesome I really liked him. He was funny, smart and could really be sweet at times. His inner commitment turmoil wasn't annoying or over done. He had good reason for things. Together though they did make a great couple. They were written with great chemistry and their sex scenes were pretty hot. I also loved Kennedy and the character she was made to be. I'm interested to read her story because of her past. The background we got in Searching for Someday really intrigued me and it feels like it could be a pretty unique story for her. Arilyn too.
Overall, it was a pretty good book and series I will follow. Probably not as closely as a few others, but I'd still read the books in the series. Probst created some really creative characters and what I think will be some really unique stories for them.