Review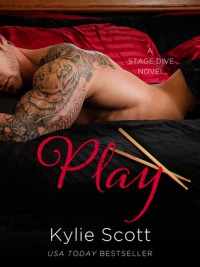 Anne Rollins's life just got complicated...again. She has lived with ups and downs all her life, so she can make it. What she doesn't expect is for the rock star that plastered her walls as a teenager to walk into her life and take over... literally. Mal Ericson, drummer for Stage Dive, is wild. He's is outgoing and fun. The life of the party, but he needs to slow down and his life is taking a turn he never expected. After seeing one of his life long friends settle down he's thinking a good girl is just what he needs for...well...everything. So he takes over Anne's life... I'm not kidding. Little do either realize just what is going to happen between them or expect anything of the sort.
I LOVED Lick! It was a great story that introduced us to some great characters... one of those being Mal. I love Mal! He is my favorite... if you've read my reviews of the rock star related books I've read than you know I have a thing for drummers apparently. Mal just has a personality and image I sincerely love. He is a fun loving guy with a big heart and is a lot deeper than he seems. He's a breathe of fresh air to the intense broody guys. We really get to know him much better in Play and I was excited for it. I liked Mal even more than I thought I would. Anne is a good character, but not my favorite. I did like her and she balanced Mal out really well. She just seemed a little to excepting for me. She just let Mal walk right in with hardly any fight. She was depicted as a fighter or a strong person, and in many instances she was, but when it came to some things she wasn't. It didn't mesh for me. She was however a great match for Mal. I liked them together. I liked their chemistry and their dialogue with each other.
We got to see Ev and David.. they really are great together. They are a power couple lol. Jimmy has me curious. We see more of him and Ben in Play...both of them have me curious. I'm really excited for their books, especially Jimmy's. Just something about him has me wanting to know his story.
These books have solidly slid into my rocker series spot. That spot came open with the ending of Olivia Cunning's Sinner's Series. I really loved that series and always anticipated the release of the next book. The Stage Dive guys have really become that for me now. I enjoy Kylie's writing style and the voices she gives her characters. I look forward to Lead!